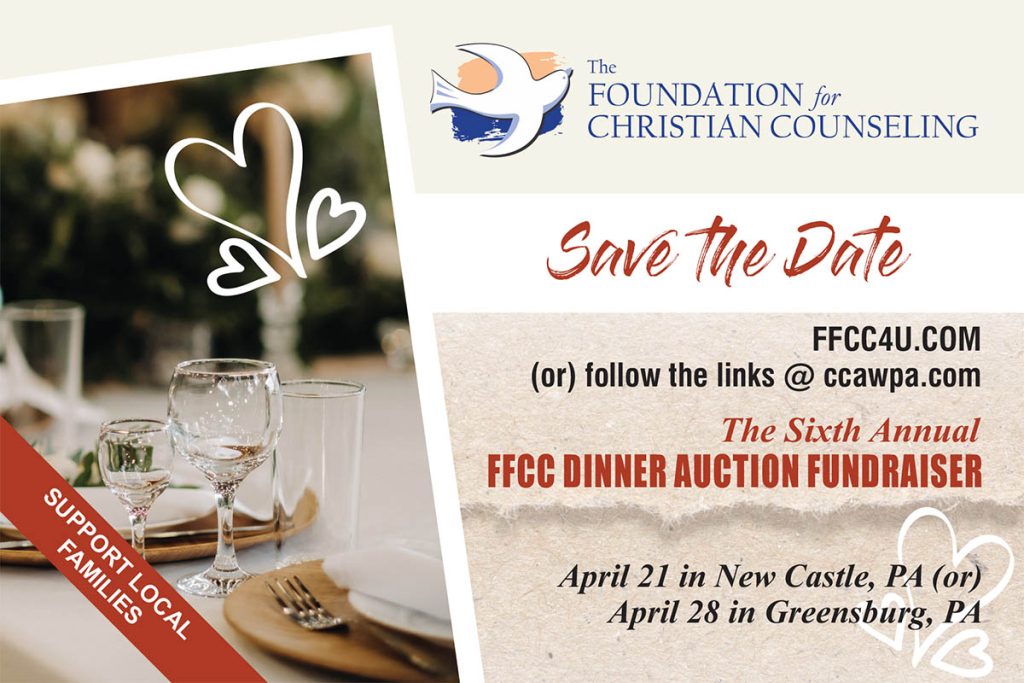 2023
Dinner Auction Fundraiser
You can help in two ways:
Come to the Dinner Auction


Learn about the mission of the FFCC. The Foundation is designed to bring community leaders together to meet the mental health crisis that is occurring in our local communities;

Donate

We are seeking community donors willing to provide auction items and/or monetary donations that will help us reach our annual fundraising goals. Donated items will be auctioned off during the Dinner Fundraiser to help local families who are beneficiaries of the Foundation. Funds raised from last year's event helped to provide over 3,543 counseling sessions to 370 families and individuals in our local communities. In addition, the FFCC funded 5 Marriage and Parenting group programs were held (2 Marriage Tune-Up and 3 Christian Active Parenting), and continuing education and training to faith based support systems involved in crisis intervention ministries. $87,075 dispersed to help people in our local communities seeking faith-based mental health counseling and support.
2022 Dinner Auction Fundraiser
Thank you for making this Fundraiser a Success!
The 5th Annual Dinner Auction Fundraiser was a success due in large part to the generosity of the following sponsors:
66 Auto
Any Time Fitness
Applebee's
Burdines Smokehouse

Billy Graham Retreat Center
Brandie Gruber
Brooke Hills Free Methodist
Cailyn Noelle Photography

Center Exit Tire
Charter Oak Church
Chik-FIl-A
Chili's
Chilly Willy Cheese Steaks
Christine Miller
City Reach Church
Continental Health Equipment Inc
Crazy Thai Restaurant
Davis Consulting Inc
Eat n Park
Eddie Perun
Emmanuel Lillios
Erie Team
Fantastic Sam's – Greensburg
Frogtown Acres B&B
Giant Eagle Chippewa
GR Technology
Greg Six
Harrison City UMC
Hosak, Lisa
Jennifer Kohl
Kelley's Pizzeria
Knapp, Alane
Latrobe UMC
Linda Miller
Larry and Jean Thomas
Little Grey House

Lori Hanne
Lynda and Dave Weidner
M3 Designs
Mary & Martha Independent Consultant
McDonald Presbyterian Church
Milk House Meats
Mississippi Chicken Shack
MPF Insurance
New Wilmington Livestock Auction
Pioneer Micro Systems
Quality Time and Carry Out
Red Lobster
Renee Gaston
Second Baptist Church Beaver Falls
Shirleen Johnston
Shirleen's friend
Sights & Sounds Theater
Slickville Presbyterian Church
Slickville Legion
Slickville Panels
Spanos Group of Raymond James
Spectrum Signs
Susan Daniels
Terry DeHamer
Tower of Hope
Urban Vet Farm
Vocellis Pizza
Wagon Wheel
Walmart Chippewa
Windover Hills UMC
Wittenauer
Women's Care Center
Wooden Angel
Wreaths by KB
Thank you to all of our Church partners, the Staff and Counselors of Christian Counseling Associates, the Committee Members of The Foundation For Christian Counseling and all of the friends and family who generously donated to The FFCC 5th Annual Dinner Auction Fundraiser.