Christian Counseling Associates
Clinical Mental Health Counseling
FOUNDER AND CLINICAL DIRECTOR:
Richard Hoffman, Ph.D.
Clinical Director of Christian Counseling Associates
Christian Counseling Associates (CCA) provides individual, marriage, and family counseling. We serve Christians who want their faith integrated into the counseling process and those holding any beliefs or attitudes toward spirituality. Our counselors will help you identify the core issues that have caused your emotional and personal problems and efficiently develop strategies to resolve the issues that have you stuck.
Our counselors are experts in faith-based clinical counseling and highly trained from accredited institutions. We have a heart for God, families, and those who struggle with personal life challenges. Our organization is well established, with a location near you. In addition, when an onsite location is not convenient, we provide excellent online counseling services. CCA also provides many treatment options not available with smaller practices, such Alpha-Stim treatment for depression and anxiety, Freespira Biofeedback for Panic Disorder, and psychiatric medications if desired.
Substance Addiction Counseling
Often, recovery from addiction can seem challenging, isolated, or even impossible. Let Christian Counseling Associates stand with you! CCA provides compassionate, faith-based treatment for addicted individuals and support for their families. Our drug and alcohol rehabilitation programs are certified and approved by state licensing agencies and we accept most insurances, including Medicaid in Westmoreland County Pennsylvania. Are you ready to break the cycle of addiction? Don't try to do it alone; find your turning point with CCA today!
All calls are confidential.
Our call center is available to schedule appointments
Monday – Friday/8:30 AM – 5:30 PM
Office Hours:
By Appointment: 8AM - 9:30 PM Availability of Counselors may vary
Our Workshops and Seminars
Christian Active Parenting
Christian Counseling Associates offers a proven parenting skills program that combines the wisdom of Christian faith and research tested techniques with principles that will strengthen your family. 
Through group participation led by licensed professional counselors, parents will improve their ability to integrate Christian faith and effective discipline into an overall parenting style that builds solid family bonds.
Workshops are presented within a 6-week, 2-hour format. Members will learn methods to improve communication within their families as well as build solid foundations in their children for the upcoming Embrace the Joy of Parenting teen years.
Christian Counseling Associates is offering Marriage 2.0! A dynamic six-week marriage class designed to help you look deeper into the heart of your most important earthly relationship.
Sessions will include activities for couples, biblical teachings, relationship assessments, communication tools and steps to immediately put these principles into action. Whether your marriage is the best it has ever been or in serious need, "Marriage 2.0" will be a blessing.
Our Founder and Clinical Director, Dr. Rich Hoffman, and our expert clinical staff are available for onsite workshops and seminars. Topics include but are not limited to: 
Christian Approaches to Mental Health Issues
Developing Peer-Led Counseling Programs in the Local Church
Managing Stress and Burnout
Conflict Resolution in the Church Community
Understanding Addiction and Ministry Response
Ask Christian Counseling Associates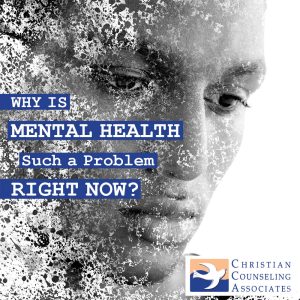 NEW PODCAST 22 | Why is Mental Health Such a Problem Right Now? (Guest: Tom Weil) | 72 min 37 sec
A recent Gallup Poll survey indicates that 23% of the U.S. population sought counseling in 2022. This is nearly double the amount of those seeking help from the same measure made in 2004. What's going on with mental health in America? On this episode of Ask Christian Counseling Associates, join us to discuss this question and more with special guest Tom Weil, Clinical Supervisor of our Butler and Mercer regions of CCA.
Visit Our Podcast – CLICK HERE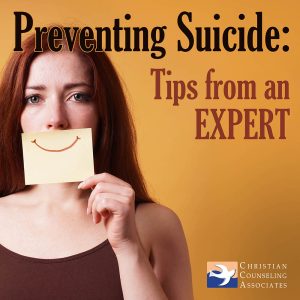 PODCAST 21 | Preventing Suicide: Tips from an Expert (Guest: Dr. Karen Mason) | 54 min 01 sec
Some believe that the most depressing day of the year happens in mid-January. This is when we are coming off the high of the Christmas celebrations, bills from holiday spending start to hit our inbox, the weather is the bleakest, and guilt from failed New Year's Resolutions culminates in a perfect storm of discouragement. On this Ask Christian Counseling Associates episode, we meet with Dr. Karen Mason, Professor of Counseling and Psychology from Gordon-Conwell Theological Seminary. Dr. Mason is the author of "Preventing Suicide:……
Visit Our Podcast – CLICK HERE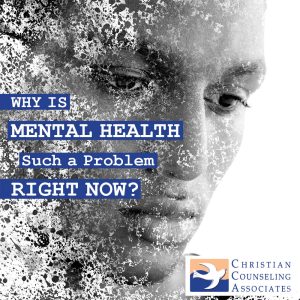 PODCAST 20 | The Liberia Mission (Guest: Rev. Dr. Jerry Kulah) | 55 min 23 sec
In this episode of Ask Christian Counseling Associates, we meet with the Rev. Dr. Jerry Kulah from Liberia, West Africa.  Liberia began as a county in the early 19th century as the United States began to send freed slaves seeking a new start to resettle in Africa. Since this time, Liberia has shared a special connection with America. Rev. Kulah is a leader with the African Initiative, an influential group of African faith leaders within the United Methodist Church. Join us as we discuss our connection to Africa in mission, values, and Christian faith. ……
Visit Our Podcast – CLICK HERE
"However, as it is written: "What no eye has seen, what no ear has heard, and what no human mind has conceived"— the things God has prepared for those who love him—" — 1 Corinthians 2:9 
 . Powered by BibleGateway.com.
© Copyright 2023 by Christian Counseling Associates of Western PA. All Rights Reserved. | Webmaster: GPVI